It's almost the Summer Holidays and a time where families are hopefully able to get away and spend some quality time outdoors. Together, let's continue to put the 'out' in Scouting and challenge ourselves to get moving, making the most of the nice weather in August, wherever you are in the world.
This year, we're wanting to see all the different ways that you and your family love to get moving! Whether it's on land with your trusty feet, wheels (non motorised!), or in the water. Whatever takes your fancy, as long as you're using your body to power along!
An fun extra challenge for you is to find the most unusual/creative way of moving – don't forget to post in our 2nd Toton Facebook group and tag #2ndTotonAugAthlon as proof! There will be a prize awarded per section too i.e. 1x Beaver, 1x Cub, 1x Scout. We can't wait to be wow-ed by you!
Fundraising info
The funds raised from last year were put to good use in purchasing new equipment that were used at the recent Walesby summer camp and will also be used by our Scouts section for their August camp. Check out the infographic detailing how the funds were used……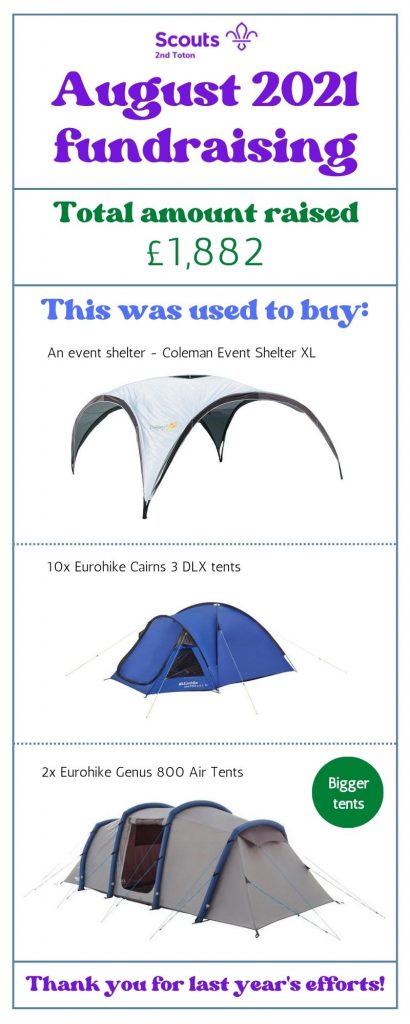 We have included a sponsorship form to help motivate the Beavers/Cubs/Scouts to persevere through the challenge to meet their target, knowing that they will benefit from new and exciting activity equipment, improved nights away experiences and enhanced programme resources.
You can collect your sponsorship money in cash or *ideally* use our Local Giving fundraising page:    https://localgiving.org/appeal/Get-moving/
Please see the attached PDF documents:
Completed fundraising
Please return your completed Log Sheets, nature scavenger hunt, Sponsorship Forms and cash to your Section Leaders in September.
Alternatively, you could upload them to the 'Events at Home' area here in OSM.   We will then update your child's record to reflect any badge criteria achieved – to name a few, these may include the Personal Challenge, the Teamwork Challenge, the Hikes Staged Badge and the Hobbies, Sports, Health & Fitness Activity Badges.  
Have fun getting out there and moving! Don't forget to share your action snaps in our Facebook group chat / OSM Chat Room groups!
Good luck!